Table of contents:
Buyer intent data, when used as part of your sales and marketing process, has the potential to significantly increase your sales volume.
It can be used to provide instant data on companies searching online for the product or service you provide. This gives you the sales intelligence to reach out with the most relevant marketing or sales content ahead of your competition.
Before we explore the ways that buyer intent data can be used to increase your sales, let's have a quick recap on what exactly buyer intent data is.
What is Buyer Intent Data?
Buyer intent data is a front-row ticket to instant intelligence on what your future customer looks like, what they are researching, who they are interacting with and more. Used correctly, this can generate revenue by significantly boosting your sales.
It is information collected by monitoring and collating intent signals online.
There are two types of intent data. First-party intent data is collected from users interacting with your company or website.  Third-party intent data is collected from 3rd party sources across the web and is not limited by scale or scope.
To learn more about buyer intent data, read our article What is Buyer Intent Data? 6 Facts you need to know.
In this article, we will focus on third-party intent data and provide insight into the 5 ways buyer intent data can increase your sales.
1. It can identify prospects at the later stages of the buyer journey
In marketing, it is generally accepted that buyers go through a 'buyer's journey'.
Buyers are in an 'awareness' stage, starting at the top of this funnel. At this stage, they know they have a problem but have not yet put a name to it, and certainly are not looking for vendors. They are conducting online research.
Generally, inbound marketing, and the associated content needed for inbound to work, are focused on this 'awareness stage' of the buyer's journey. This is because it is easier to rank for awareness stage content, with generally less competition in search (after all, the prospect is not looking for a solution yet), and a greater choice of keywords.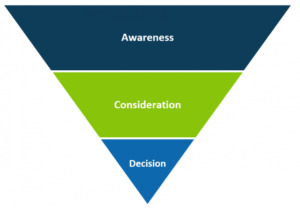 However, the problem with acquiring new leads at an 'awareness' stage is that they often require a lot of nurturing, meaning more content and time. In the B2B world, the person tasked with conducting this research which led them to your website, may be a junior member of staff rather than the decision-maker – so you can spend weeks automatically nurturing a prospect who has downloaded your content using the email address of hello@ or info@. Not a good use of your time or investment!
However, with buyer intent data, you can set up your campaign to focus on buyers researching directly for a solution to their problem or a particular vendor. This can be done through various social listening and content monitoring tools.
This means you do not need to go through the costly and time-consuming process of capturing these prospects on your website via paid ads or inbound marketing. Simply put, they don't need to find you because you have found them.
The result is that your business can acquire prospects ready (or close to) the decision-making stage. This allows your business to do relevant and timely outreach and generate a higher proportion of 'sales qualified' leads than you would via inbound marketing.
Buyer intent is so-called because it picks up the 'intent' to 'buy'…makes sense, right?
2. It allows for better and more targeted personalisation
Personalisation is critical for today's marketers. According to a report by Mckinsey, personalisation can help to grow your revenue by 5- 15% and improve the efficiency of marketing spend by 10-30%.
Using intent data, you can take the guesswork out of marketing and deliver content based on actionable and confirmed data 'triggers'. These triggers could include a recent engagement with a competitor, a job vacancy for a relevant position, posting content on social media using relevant keywords, or posting a particular type of content.
As a marketer, the more real-life data you have from potential companies who could be buyers of your product or service, the easier and faster it is to create personalised content responding to these triggers. This relevant content can then be delivered directly to your prospects' inboxes.
The alternative to this method using buyer intent data is inbound marketing. This requires voluminous content created after endless keyword research, content optimisation, and SEO wizardry, which is both costly and difficult. And with a staggering 90.6% of all content on Google getting zero traffic (no traffic at all, that's right!) there is a high chance your marketing team is creating inbound content for an empty audience.
3. It can improve productivity by automating your sales prospecting
Increasing your sales team's productivity is key to increasing your sales. According to research from HubSpot, the average salesperson spends less than a third of their time selling, and 40% of salespeople say that prospecting is the hardest part of their job.
So if you can use buyer intent data to take away prospecting (such as connecting on LinkedIn, getting past the gatekeeper, and sourcing emails), this will result in a happier and more productive sales team which = means more sales for your business.
The best buyer intent software solutions can provide company-level intent information and the contact level data of key decision-makers (all whilst complying with GDPR rules). This means your sales team can cut to the chase and use the latest business intelligence to have more conversations with the right prospects.