Table of contents:
Are you responsible for managing your company's accounting and finance activities? If so, you probably know how demanding it can be to take care of all the day-to-day activities. Besides, juggling so many different tasks with ridiculously limited time can feel overwhelming, especially if you're also in charge of other responsibilities. 
Fortunately, there are several software solutions that can help automate some of these processes and make them much simpler to manage. Before we dive any deeper, here's a brief overview of automation in finance and accounting: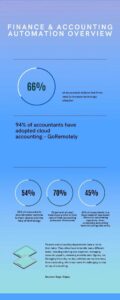 In this blog post, we'll explain why automated workflows are so beneficial for accounting and financial teams. Then, we'll describe some ways that you can use Pipedrive workflow automation to streamline your accounting processes at your company.
What is the Essence of Workflow Automation, and Why is There a Need for Automation?
The finance and accounting departments have a lot on their table. They often have to handle many different tasks, including entering new expenses, managing accounts payable, reviewing monthly sales figures, etc. Managing these day-to-day activities can be extremely time-consuming, which can make it challenging to stay on top of everything.
Obviously, it's important to find ways to simplify all these activities and make them less time-consuming. Automating accounting workflows and finance activities with platforms like Pipedrive CRM can help you free up more time for your finance and accounting departments and streamline your business activities (more on that later).
So, what is Pipedrive workflow automation, and why is there a need for automating accounting workflows and finance activities?
Workflow automation refers to the use of software to automate tasks, such as approvals, data entry, and other business processes. The workflow is initiated by an event, such as receiving a new expense report or a new invoice from a client.
Automating accounting workflows can help your company's accounting and finance teams in many different ways, as follows:
It helps the teams

manage a higher volume of data

– An automated

system

collects, organizes, processes, and stores more data more efficiently than a manual worker.

Precision and accuracy

– Automated systems capture the right data into its correct fields, which minimizes the chances of manual errors.

Personalized service delivery

–

Automated workflows

are tuned to the needs of specific clients with specific finance and accounting needs.
This means that you can create a workflow that is unique to your company's accounting procedures and priorities.
Fundamental Processes in the Finance and Accounting Functions That Need to Be Automated
Automating manual tasks can be challenging for finance and accounting departments. These departments are known for their many manual tasks and general "resistance" toward digitization due to issues such as data breaches and insecurity. Despite this, there are several key functions that can benefit from finance workflow automation.
Automatic
Tasks
for Your Accounting Processes
The accounting team at your firm can benefit greatly from automated workflows on several manual tasks such as:
Retrieving past expenses 

Recording new purchases 

Recording new sales 

Recording new invoices from clients 

Recording new

payments

from clients 

Recording journal entries 

Reversing journal entries 
For example, you can automate the flow of new expenses by prompting team members to enter a client's expense data into your accounting automation system. The system tracks and records other future expense information and paints a clearer picture of how well they fit into your firm.
Automatic
Tasks
for
Financial
Activities
The financial team at your company can also benefit greatly from finance workflow automation with Pipedrive. Tasks that can be automated include:
Recording new bank deposits 

Recording

payments

to vendors 

Invoicing and budgeting

Fraud detection and mitigation
Why is Automating the Finance and Accounting Processes So Important?
Businesses in the digital age are more data-driven than ever before. This can be greatly attributed to the need to save time and money, reduce labor costs and increase productivity. Automating accounting workflows helps bring down manual errors, streamline operations, and ultimately help you save money by reducing spending on bookkeeping.
That said, here's why accounting and finance workflow automation is important:
Boosting operational efficiency

– If you've ever tried to manually track your finances, you know that it can be a tedious, time-consuming process. Your

financial

records could be out of date, which can make it difficult to make

financial

decisions.

Automating accounting workflows

allows you to view accurate

financial

data at any time.

Reduce manual errors

–

Manual

errors can occur at any point in the

financial

process, from recording transactions to preparing

financial

reports

. If you manually record your

financial

data, you run the risk of entering incorrect numbers. This can lead to incorrect

financial

reports

and make it difficult to identify risk areas, such as an overspending customer or an overdue payment.

Automating accounting workflows

and finance processes cuts the chances of

manual

errors occurring.

Streamline operations

– Organizations that automate their finances are able to streamline operations by eliminating paper-based procedures. For example, instead of manually entering transaction data into a spreadsheet, you can use software that automatically pulls data from your accounting

system

and imports it into a dashboard for analysis. This enables you to view a snapshot of your business's

financial

health and makes it easy to see if anything out of the ordinary is going on.

Provide financial data for decision making

— Managing your finances manually can be difficult, especially if you're new to

finance workflow automation

or don't have the time and

resources

to dedicate to the process. This can make it challenging to make key

financial

decisions, such as extending additional credit terms to a customer or how much to pay a vendor.

Automating accounting workflows

and finance processes allows you to record and view accurate

financial

data at any time for more informed

financial

decisions.

Save money spent on external bookkeeping services

–

Automating accounting workflows

and finance processes can save you money spent on expensive accounting services. Bookkeeping is an expensive process for small and startup businesses. The good news is that automating large chunks of the job can help get rid of the need for an expensive accountant.